Who We Are
OakLawn Landscaping is a family-owned, local business founded in 2001 by Geoff Jackson. Built on the principles of creating beautiful landscapes and providing reliable service, we have taken our business to new levels year after year.
At Oaklawn Landscaping, we pride ourselves on delivering top-notch landscape maintenance services that keep your outdoor spaces in pristine condition year-round. Our expert team is dedicated to preserving the beauty and health of your existing landscape, ensuring it remains a source of pride for your property.
Lawn care is at the core of our landscape maintenance services. Our skilled professionals meticulously mow your lawn at the ideal height, promoting lushness and preventing weed overgrowth. With proper watering and fertilization, we ensure your lawn maintains its vibrancy and health throughout the seasons.
Trimming and pruning are handled with precision, enhancing the visual appeal of your landscape while encouraging healthy growth for your plants and trees. By removing dead or overgrown branches, we create a more polished and well-maintained look.
Our team takes the time to care for your garden beds and planters. We diligently weed and mulch, preventing unwanted growth and enriching the soil with essential nutrients. We also implement effective pest control measures to safeguard your plants from insects and diseases.
In addition to plant care, we ensure your irrigation system operates flawlessly. Our experts inspect and maintain the system regularly, making sure it efficiently provides water to your landscape while conserving this valuable resource.
Hardscape elements are not overlooked. Our professionals conduct thorough inspections and maintenance of pathways, retaining walls, and other hardscape features. This proactive approach prevents potential safety hazards and preserves the integrity of these structures.
By entrusting Oaklawn Landscaping with your landscape maintenance needs, you gain peace of mind knowing that we address issues promptly and efficiently, saving you from costly repairs in the long run.
With Oaklawn Landscaping's commitment to landscape maintenance, your outdoor space will flourish, creating a welcoming and attractive environment that reflects the care and dedication we invest in every project.
Our Mission
Our Mission is to develop our people, make happy customers, and create great look'n places.
Our Vision
To be the premier landscape company in the Washington DC, Maryland, and Virginia area.
Our Weekly Safety Training
Our commitment to exceptional safety standards distinguishes us in the landscaping industry. To ensure the wellbeing of our team and clients, we use the "Safety Tailgate Training" manual by the National Association of Landscape Professionals (NALP). This guide enables weekly safety training sessions, covering everything from OSHA guidelines to equipment operation procedures. Despite our busy schedule, we prioritize continuous training, surpassing industry norms. This practice enhances our team's skills, fosters a safer work environment, and ensures we provide superior value to our clients.
The OakLawn Quality Control Process
At OakLawn Landscaping, we prioritize not just safety, but also the quality of our work on clients' properties. To ensure consistent top-tier service, we've implemented the "OakLawn Quality Control Process", developed with industry consultant, Head Harvester Ed Laflamme. This unique process employs a numerical grading system for standardized, precise evaluation of each property. We conduct quality inspections for annual maintenance clients, guaranteeing thoroughness. Quality assurance is integral to our identity as we strive to deliver superior landscape services.
OakLawn Standard Management Process
Safety and quality assurance form the bedrock of our OakLawn Standard Management Process. This framework is designed to guarantee the consistent application of our company's standard practices using a clear four-step methodology: Plan, Prioritize, Assign, and Follow-Up.
The planning phase starts with a detailed consultation to identify the specific needs of a property. Following this, we prioritize your property, ensuring the right information is communicated, and the appropriate team members are allocated to your landscape. This process is crucial to our method of assigning tasks to various production team members and property management representatives.
Finally, our follow-up stage involves applying our rigorous quality control process, ensuring that no client goes unnoticed or underserved. This holistic approach encapsulates the complete OakLawn experience, ensuring that we always deliver exceptional service and superior results to our clients.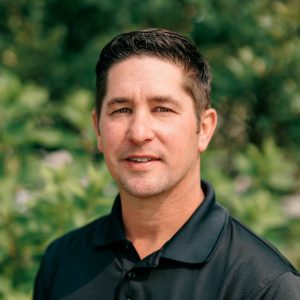 Geoff Jackson
President, CEO
Michelle Jackson
Office Manager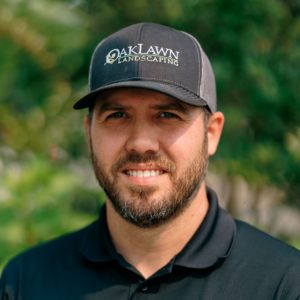 Stephen Hamby
Executive Account Manager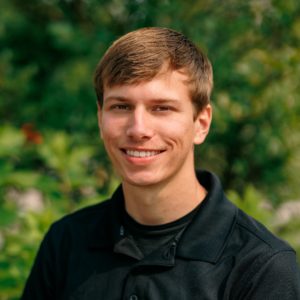 Sean Hollern
Account Manager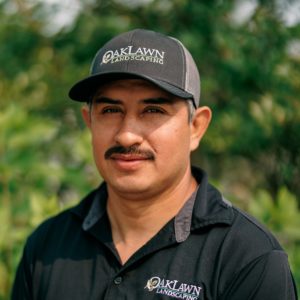 Rodrigo Campos
Field Supervisor
Hannah Shafer
Administration